WALTHER PILOT GA9010 Spray Gun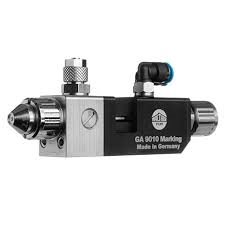 Fully automatic spray gun for dot matrix or line marking.
Gun body: nickel-plated brass.
Nozzle: stainless steel.
Air caps: round or wide.
| | |
| --- | --- |
| Model | Part No |
| With round-jet nozzle insert: 0.3 / 0.5 /0.8 / 1.0 / 1.2 / 1.5 mm ø | V 21 300 51 . . 3 |
| Diaphragm round jet: 0.3 / 0.5 /0.8 / 1.0 / 1.2 / 1.5 mm ø | V 21 321 5 . . 3 |

Designed as a long term replacement for the successful Signier marking gun the GA9010 Marking is more flexible and precise, 48 clicks per revolution on the material control, despite being 30% shorter and 20% lighter than the original.
Sharp-edged markings are possible with the PILOT GA 9010 Marking.
The PILOT GA 9010 Marking is a fully automatic spray gun for spot and line marking.
Multiple block mounted guns are suitable for dot matrix alphanumeric labelling.
Extremely short switching times 13 milliseconds, open/spray/close, it is ideal for use in production processes with short cycle time requirements
Short switching time and precise application results in savings on consumables compared to previous marking gun.
Robust construction ensure that the PILOT GA 9010 Marking delivers smooth production processes even under the most difficult conditions.
Three material input ports allow easy conversion from single product, recycling or flushing modes.
Wide range of are caps available to cover dot/line width from 2-60mm
Available in standard spring/air activated model or diaphragm activated for processing abrasive, moisture cured or quick drying paints.
An assortment of inks, paints, solvents and cleaning agents are available to cover a wide range of applications. All of which are chemically compatible for interaction with gun components to ensure trouble free operation.
Applications:
• OK and NOK component marking
• Alphanumeric labelling
• Food processing
• Adhesive processing with spot-accurate application
• Markings following weld seam inspection of sheets and pipes
• Marking of rejects
• Machine-recognisable marking following leak check
• Labelling as an orientation tool

Useful Guides