Select 3 Spray Marking System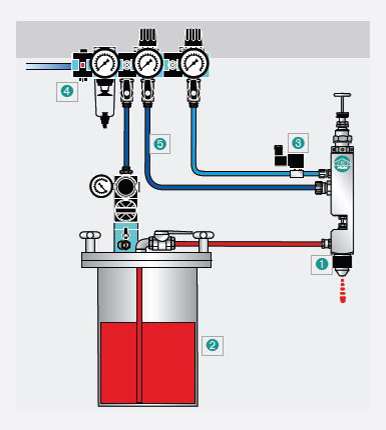 Small spray marking system

Compact design for simple system integration
Simple operation, low maintenance
For dots from 3 to 30mm in diameter
Product Details and Part Information
Small spray marking system
Includes pressure cup, capable of about 70,000 dots in application. (5mm in diameter) /4,500 meters of lines (5mm wide)
Compact design for simple system integration
Simple operation, low maintenance
For dots from 3 to 30mm in diameter
Triggered by solenoid valve
Consisting of:
Spray Marking Gun, Model 20-360, with pull rod for manual activation (e.g. for spray trials)

Body: nickel-plated brass
Needle/nozzle: stainless steel
Nozzle sizes: 0.3, 0.5, 0.8, 1.0, 1.2, 1.5 mm diameter

MDG 1 material pressure tank, 1,100 ml, stainless steel, max. 3 bar
Solenoid valve, 3-port, 2-position, 24V DC; other voltages available
Compressed air manifold with pressure gauges and safety valve.
2m Hose kit - includes fittings for material hoses and air.
Options:
Holders for marking guns
Agitators and level sensors
Color sensors
Measurement transducers for function monitoring
Control cabinets / pneumatic control cabinets
Having the system integrated into your assembly line.
Useful Guides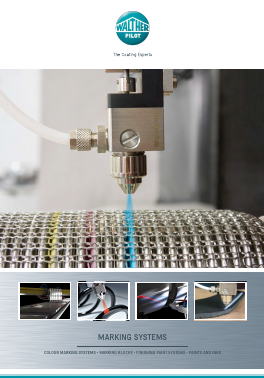 Marking Systems