Select 5 Spray Marking System - Flushable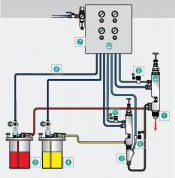 Spray marking system
The system is fitted with an additional flushing valve.
After the spray cycle a mix of air and cleaning agent is pressed into the circular gap between the nozzle and air cap.
Simple operation, low maintenance
Product Details and Part Information
The Select 5 Spray Marking System is your ideal choice in the event of exposure to extreme material build up regarding the air cap and the nozzle.
Includes pressure cup capable of about 210,000 dots in application (5mm in diameter) or 13,500 meters of lines (5mm wide)
Compact design for simple system integration
Simple operation, low maintenance
For dots from 3 to 30mm in diameter
Triggered by solenoid valve
Consisting of:
Marking Gun, Model 20-360, with pull rod for manual activation, flushing version

Body: nickel-plated brass
Needle/nozzle: stainless steel
Nozzle sizes: 0.3, 0.5, 0.8, 1.0, 1.2, 1.5 mm diameter

Flushing valve, Model 20-369
Solenoid valve, 3-port, 2-position, 24V DC; other voltages available
MDG 3 material pressure tank, 2,500 ml, stainless steel, max. 3 bar, w/o agitator, for cleaning agent
MDG 3 material pressure tank, 2,500 ml, stainless steel, max. 3 bar, w/o agitator, for paint/ink (other size tanks available)
Pneumatic control cabinet with pressure gauge connecting two pressure tanks, one flushing valve, one marking gun
Hose kit - includes fittings for material hoses and air
Options:
Holders for marking guns
Color sensors
Measurement transducers for function monitoring
Control cabinets / pneumatic control cabinets
Having the system integrated into your assembly line
Useful Guides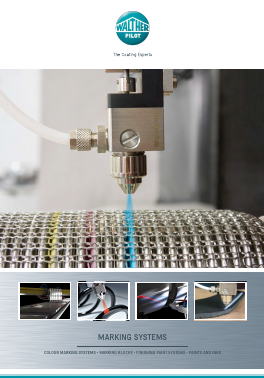 Marking Systems