Walther Pilot 2K Bonding Spray Gun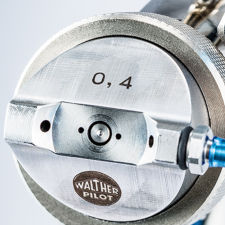 Market leading two component adhesive spray gun
The manual spray gun 'PILOT 2K Bonding' is used exclusively to process sprayable water-soluble non-flammable two-component media.

High quality yet cost efficient
The Pilot 2K Bonding gun is an inexpensive addition to supplement the range of 2 component spray guns.
The main benefit for this system is that the 2 components, adhesive and activator, are mixed at the correct ratio in the spray stream on exiting the air-cap.
Only material required is used as no premixing is necessary. This results in a more efficient and cost effective application.
Unlike alternative models the B Component (Activator) control valve is mounted externally on the gun which results in easier cleaning and replacement.
All material contact components including air-cap are constructed from stainless steel.
Air-cap available in either round or wide jet format with a variety of nozzle sizes which allows precise spray pattern and mixing ratio.
The flexibility of the wide jet version is also enhanced as the air-cap can be rotated and fixed to achieve desired pattern.
Compared to alternative models the spares inventory is reduced due to the simplified construction format.
The Pilot 2K Bonding gun is easy to use and is suitable for both left and right handed users.
Easily installed into existing applications or as part of custom supplied system

Applications:
• Foam manufacturing
• Mattress adhesion
• Soft-furnishing industry (desk, dining and conference chairs, sofas)
• Automotive industry
• Seats for buses and rail transportation
Useful Guides