WALTHER PILOT WA XV Spray Gun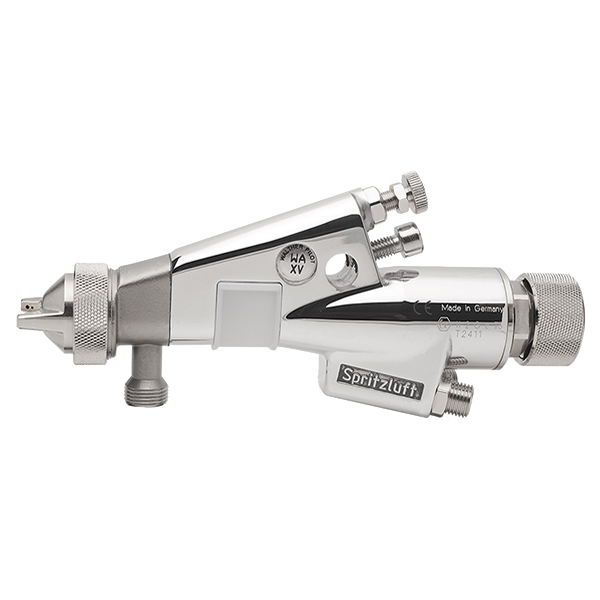 Automatic adhesive spray gun
Wetted parts: stainless steel
Internal control for opening/closing air input
Rear pull-bar for manual operation
Product Overview
Fully automatic spray gun for all common solvent-based adhesives. All wetted parts are made of stainless steel. Special HS (high solid) or SHS (super high solid) air caps are available for use with high-solids adhesives.
Product Details & Part Information
Nozzle Sizes Available: 0.5mm / 0.8mm / 1.0mm / 1.2mm / 1.5mm / 1.8mm / 2.0mm / 2.2mm / 2.5mm / 3.0mm / 3.5mm
Spray gun nozzle extensions are available that allow for 45, 90, or 360 degree spray patterns. Please click here to view them : Spray gun nozzle extensions.
Cleaning kits and repair kits for this spray gun are also available.
Related Models:
| | |
| --- | --- |
| Model | Desc. |
| PILOT WA XV | Standard version without pullbar |
| PILOT WA XV-U | Standard version for recirculation systems |
| PILOT WA XV Pullbar | Standard version with pullbar for manual nozzle opening |
| PILOT WA XV-ND | HVLP-Version Wide-to-round-jet nozzle inserts available: 0.8 / 1.0 / 1.2 / 1.3 / 1.5 / 1.8 / 2.0 mm ø |
| PILOT WA XV Membrane: | Model with diaphragm instead of needle seal packing, for working with special spray media, e.g. abrasive media Wide-to-round-jet nozzle inserts available: 0.3 / 1.0 / 1.2 / 2.0 mm ø |
Useful Guides