WALTHER PILOT WA 923-ND-K Spray Gun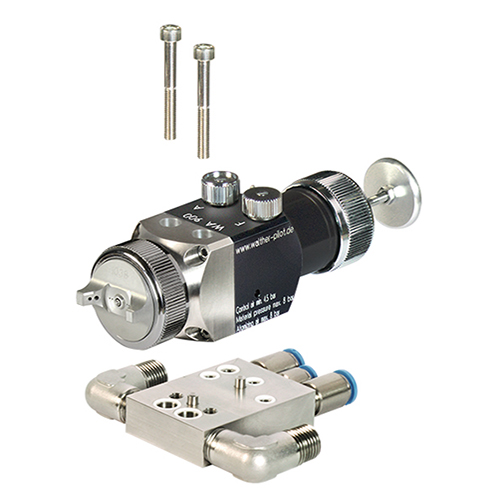 Walther Pilot Water Based Adhesive Spray Gun
Newest addition to our collection of water based adhesives.
Highly reputable Walther Pilot quality.
Compact, lightweight & PTFE coated design for gun body.
Product Details & Part Information
Comes in the following versions:
Conventional
HVLP
HVLP Plus
Adhesive (Water Based)
Adhesive (Solvent Based)
AR (Abrasive Resistant)
The WA 900 can also be used in recirculating systems
The following nozzle sizes are available:0.3mm, 0.5mm, 0.8mm, 1.0mm, 1.2mm, 1.5mm(standard), 1.8mm, 2.0mm, 2.2mm, 2.5mm, 3.0mm, 3.5mm
Spray gun nozzle extensions are available that allow for 45, 90, or 360 degree spray patterns. Please click here to view them.
Cleaning and repair kits available.
Additional Features:
Models with internal or external control
Features a quick-change adaptor plate design for easy dismounting / changing
2 types of adaptor plate available (regular: nickel-plated aluminum and low-profile: stainless steel; see below)
Adapter Plates
Standard Adapter Plate
2 mounting bolts (4 mm allen key) to mount/dismount the gun
Made of aluminum
Material outlets in the rear of the adapter plate; recirculation version available
Low Profile Adapter Plate
2 mounting bolts (4 mm allen key) to mount/dismount the gun
Made of stainless steel
Option with material feed on the left or right of the adapter plate; or recirculation version
Useful Guides